For a decription of the game click here. The game is now only $29.99 on Steam which is $20 less than it was 20 days ago. If you are considering getting this game, $30 is totally worth it.
Here are the settings that I used in all my testing for Far Cry 2:
You may notice that the Bloom box is not checked. I unchecked it due to the fact that the 3D Vision suggestion text that popped up recommended that it be turned off. Unfortunately, I was unable to follow the other suggestions in the text about turning down the Textures and Shading settings. For some reason I was unable to turn the settings down below High, even with the GTS 250 installed. The Medium and Low settings are just not there.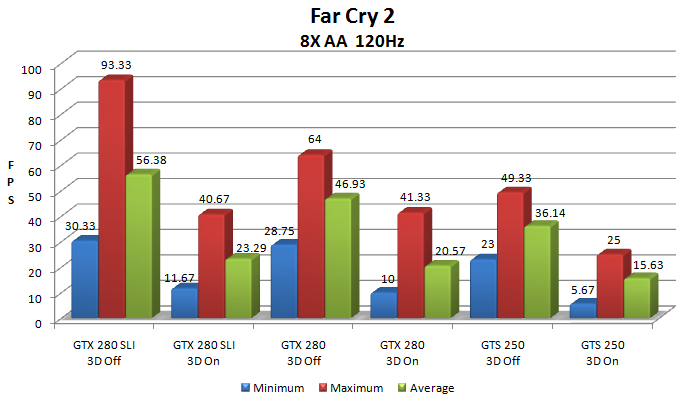 The GTX 280 SLI setup showed a 58.69% FPS decrease when 3D Vision was enabled. The single GTX 280 showed a decrease of 56.17% and the GTS 250 frame rate dipped by 56.76%. So due to my inability to follow the recommended settings Far Cry 2 showed a much larger FPS hit than the other games I tested. Turning down the AA rate would have helped as well I suppose.
Far Cry 2 looked freakin' fantastic in 3D. During my benchmarks the first thing I did was ride a hang glider off a cliff, through a tree and down into a valley where I landed it on a trail. The hang gliding sequence that I had performed over a dozen times during my GTS 250 review really came to life for me when playing in 3D. The tree's branches and leaves were fuller and more realistic and even my characters grip on the hang glider looked great. The grenade and flaming barrel explosions were also extremely impressive. Throwing a grenade into the woods sends leaves and brush flying in all directions and the fiery barrel explosion has real volume that it gives it a much more real impact.